In Memory
Charlene Broadhead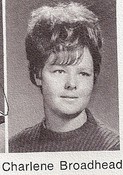 Date Deceased: 3-29-1996
Age at Death: 44
Cause of Death: injuries received in an automobile accident
Riverton, Utah
Charlene is survived by 2 lovely daughters: Melinda Finnegan Thorne and Melanie Finnegan Strosser also 2 brothers Gary & Michael Broadhead 1 Sister Susan Broadhead Martinez and her Mother, Elma Broadhead

She was truly the life of our family. We as a family miss her and are sorry to have seen her leave this world at such a young age. She and her girls missed out on a lot, especially her being a grandma.