In Memory
Gaylynn Martin Giolas
MAY 26, 1951 – FEBRUARY 24, 2021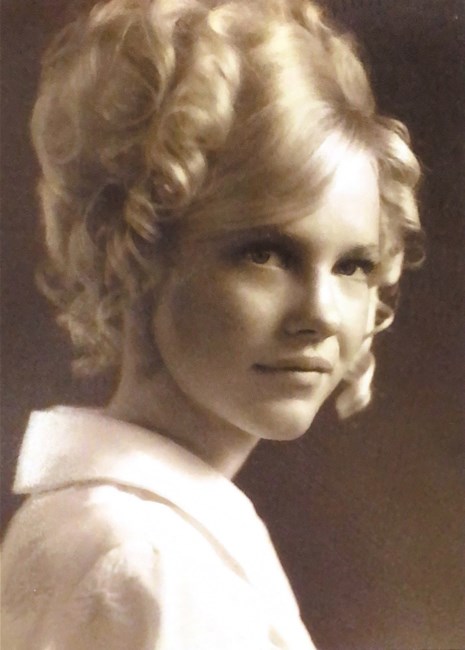 Our angel mom, sister, daughter, and Nana, GayLynn Martin Giolas passed into eternity on February 24th, 2021, after a fierce battle with Ovarian Cancer. GayLynn was born on May 26th, 1951, in Salt Lake City, Utah. She attended Granite High School where she sang in multiple capacities and enjoyed being a part of the Pep Club. GayLynn also had a gift for storytelling. She was incredibly talented at memorizing stories and performing them for large groups. GayLynn was a faithful member of the Church of Jesus Christ of Latter-Day Saints; she enjoyed many callings in the Primary and loved to go to the Temple. She is survived by her three children Andrea Thompson (Trevor), Marty Giolas (Stacey), and Amanda Schriever (Tom), and her eleven grandchildren, Meg, Dylan, Luke, Olivia, Bree, Jake, Elana, Sophie, Taylor, Bronson, and Cate, and her mom Janice Jensen, and her four siblings Michelle Allred (Weston), Chad Martin (Sue), Val Martin (Kathi), and Matt Jensen (Tina). She is preceded in death by her father Gary Martin and her sister Nekole Jensen. In 1970, GayLynn married Rick Giolas in Salt Lake City, UT. They had three children Andrea, Marty and Amanda. Being a mother was the greatest and most important role of her life. As her children were growing up, she went back to school, and received her Bachelor's Degree graduating with honors. GayLynn loved to learn and enjoyed school immensely. She worked up at Primary Children's Hospital as a child life specialist, where she helped kids work through the different procedures they were receiving. She continued her education and became a medical coder for the University of Utah Hospital. Growing up, she loved watching sports with her beloved father. We are sure that their reunion was joyous, and they are probably watching a football game right now. She loved her children more than anything in the entire world. She always wanted to be with them and her grand babies. She loved the Amazing Race, Rafael Nadal, and David Archuleta. One of her favorite trips was with her brother Chad to the Australian Open, and their many trips to the US Open. She dreamed about traveling to Wimbledon and Italy one day, but her kids will have to make that trip for her. Family is everything to her, and we promised her that we will continue our family dinners that she loved and play all her favorite games. GayLynn loved everyone and welcomed many who needed a home or someone to listen and love them. She would do anything for anyone and continued loving and giving of service till she passed. The family would like to thank Legacy Village in Sugar House for their exceptional loving care of our beloved mom. The many aides that cared for her and would come in and tell her she was their "favorite resident". We are grateful for their love. Additionally, we would like to thank Mikyn Galpin, her amazing and protective CNA who cared for her these last few years of her life. We can never thank her enough for the love and care she provided for our sweet mom. Nana, we will miss your blue eyes and beautiful smile. Your spirit and love will be missed. We are grateful you are free of your broken body, and that you are with our Heavenly Father and Savior Jesus Christ. There will be a viewing on Sunday March 7, from 12:30-1:45 pm at Wasatch Lawn Memorial Park and Mortuary located at 3401 Highland Dr. Salt Lake City, UT. 84106. Graveside services will be held March 7, at 2:00 pm. Located at Wasatch Lawn Memorial Park and Mortuary located at 3401 South Highland Dr. Salt Lake City, UT. 84106. Due to Covid, there will be social distancing and masks required. Bring a lawn chair to services if wanted.
Yvette Marie (Landes) Wheeler passed away on November 2, 2020. She was the heart and soul of her family and was loved and revered. Yvette was born to Marie and Keith Landes in Salt Lake City, Utah on June 2, 1951.

She had an older sister Janice (deceased) and a brother Clark Landes (SLC). Yvette graduated from Granite High School (SLC) and the University of Utah with a bachelor's degree in Newspaper/Media Journalism. She wrote headlines for the SLC Tribune. She had ambitions of becoming a Newspaper Columnist but opted to raise a family of five children; Megan (Matt) Downard, Kurt Wheeler (deceased), Derek Wheeler, Colin Wheeler, and Ryan (Carolina) Wheeler, in their home in Clinton, Utah side by side with her spouse of 47 years, Keith G. Wheeler.

She had six grandchildren and two great-grandchildren whom she cherished. She was always a righteous, charitable, loving, nurturing, and enduring individual in this life's process of growth and ascension. She continually had her share of first-hand adversities and learning experiences both personal and family. With life's many twists, turns, and choices she tried to create personal as well as family growth and joy in life.

Continually moving forward, overcoming/enduring this world to the end…Her Final Home Coming. She will be missed beyond measure.

Graveside services will be held at 2 p.m. on Thursday, November 12, 2020 at the Clinton City Cemetery, 750 West 800 North.
If you are aware of a Classmate who should be added to this page please let us know.