In Memory
Claudia Cox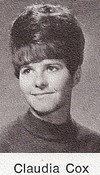 Birth: Dec. 31, 1950
Salt Lake City, Salt Lake County, Utah, USA
Death: Mar. 4, 2011, Provo, Utah County Utah, USA
Claudia Ann Cox Richens Kemp, age 60, of Roosevelt, passed away March 4, 2011, at the Utah Valley Regional Medical Center in Provo of an apparent heart attack.
She was born Dec. 31, 1950, in Salt Lake City, to Elsworth William and Arloia Jones Cox. She married Floyde Richens, later divorced. She married Dale Kemp, and they later divorced.
Claudia loved life and the people around her.
She was always happy and lived her favorite quote from Bob Marley: "One World, One Love, One People." She enjoyed doing ceramics and other arts and crafts. Her favorite past time was spending going to the mountains and hoping to see deer and elk. She also had a great group of people with Northeastern Counseling that she always hung around with.
Her children, and especially her grandchildren, were her pride and joy and the love of her life.
Claudia is survived by her companion, Jim Heguy, Roosevelt; children, Floyde "Dee" (Kathryn) Richens, Vernal; Jason Kemp, and Brian (Angel Lucero) Kemp, both of Myton; grandchildren, Nathan, Dalton, Shae, Kylee, Hannah, Faith, and Seth Richens, Amber Kemp, and one on the way; and a great-grandchild on the way. She is also survived by her brothers and sisters, Elma Broadhead, Riverton; Floyd Cox, Roosevelt; Illina Woods, Riverton; Larry (Pam) Cox, Cedarview; Judy (Bob) Anderson, Ephraim; and numerous nieces and nephews.
She was preceded in death by her parents, brothers and sister, Alvin, Glen Cox; Helen Wild, Clarence Cox.
Funeral services will be held 11 a.m., Thurs., March 10 at the Myton LDS Chapel. A viewing will be held at the Hullinger Mortuary on Wednesday from 6-8 p.m. and on Thursday at the church from 10-10:45. Burial will be in the Roosevelt Memorial Park.
Published in Uintah Basin Standard from March 7 to March 14, 2011