In Memory
John Gatzemeier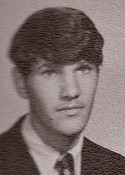 Salt Lake Tribune, The (UT) - July 21, 1995
Deceased Name: John F. Gatzemeier
John Fredrick Gatzemeier was born Sept. 8, 1951, in Salt Lake City, Utah to Kurt and Ireta Gatzemeier. Died July 19, 1995, in a Los Angeles Hospital.

He attended Brigham Young University, University of Utah, and schools in Seattle and California. He did counseling for many people with special needs and was loved by all. He loved music, flowers, and all of God's creations.

Special thanks to Mark Wilson and John's sister, ReNay, for the wonderful care they gave him during his last days on earth.

Survived by his parents, three brothers, Steven, Mark and Duane, two sisters, Mrs. J.D. (ReNay) Camp, and Mrs. Jackson (Sandra) Ewing.

Funeral services will be Saturday, July 22, at 9 a.m., where friends may call Friday from 6 to 8 p.m., at Larkin Sunset Lawn, 2350 East 1300 South, and Saturday, 8:30 to 9 a.m. prior to services. Interment, Larkin Sunset Lawn Cemtery.