In Memory
Carolee LeMon (Rackham)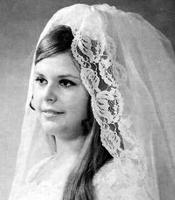 Paper: Salt Lake Tribune, The (UT)
Deceased: Carolee LeMon Rackham
Date: January 25, 2009


Carolee LeMon Rackham 3/27/1951 ~ 1/23/2009 In loving memory of Carolee LeMon Rackham. Our Sweetheart, Mom, Grandma and Friend, passed peacefully in her sleep at home. Mom endured a valiant struggle with her health and lived in pain for many years. She was the strongest person we knew. Everyone who knew our mom loved her. She touched the lives of many and she loved everyone. Her main focus, passion and pride in life was her family. She encouraged us to always reach our full potential and made each of us feel very special and extremely loved. Mom was the baby of a large and loving family of six children. Mom once again joins the embrace of her father, mother, two brothers and a niece. She is survived by her husband and soul mate, Austin Brent Rackham, three daughters; Rachelle, Hollie and Kristee, grandchildren; Lindsey, Eric, Todd, Shanelle, Tyler, Braydee, Brittanee and Kailee, great grandchild; Quynn, sisters; Vicki and Jeril and brother; Gary. Mom, you w!
ill always be with us! A viewing will be held on Wednesday, January 28th from 6:00 - 8:00 p.m. at Memorial Mortuary, 5850 S. 900 E., Murray, UT.