In Memory
Hal Lloyd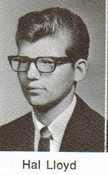 Murray - Hal Dee Lloyd, 23, of 5611 Sanford Dr., died Aug. 29, 1974, in a Salt Lake hospital of as yet undetermined causes.
Born Aug. 18, 1951, in Murray, to Bryant LaVar and Lois Marlene Richards Lloyd. Married Colleen Marjorie Vincent, May 8, 1971, in Salt Lake City. Mail handler, U.S. Postal Service. Veteran, Vietnam War, Graduate of Granite High School, Member, LDS Church.
Funeral Tuesday, 11 a.m. at Goff Mortuary, 8090 S. State, where friends may call Monday from 7 to 9 p.m., and Tuesday, one hour before services. Burial will be at Riverton City Cemetery.