In Memory
Denny Smith VIEW PROFILE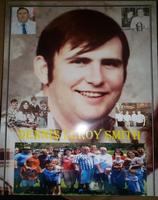 Dennis Leroy Smith
March 30, 1951 ~ November 27, 2020 (age 69)
Obituary
MY SON DENNY (Dennis Leroy Smith 30 March 1951-27 November 2020)
I was upset when I found that I was again pregnant. My body was weak and I was under-weight and anemic. I had one miscarriage and one baby within a year's time and I felt I was not ready either physically nor emotionally to take on another pregnancy, the baby to be born in one year after my first.
I had no idea that I would be the mother of a very intelligent spirit who would bring a special light and meaning to my life.
When my little son was born, he was beautiful. Actually more handsome than most babies I had seen or known. Not only beautiful, but so intelligent. Right from the start he seemed to excel in everything he chose to do. Sometimes that was not always a good thing!
When he started school he already knew everything they had to offer because his older brother, Kerry, had shared everything he had learned in his first year. I took him to school and in about an hour he came home on his own! I said, "Denny, what are you doing home, you are supposed to be at school." He said, "Oh I was really bored, so I came home." I took him back to school and told him he had to stay until he was dismissed when the day was over.
That year was boring to his intelligent mind and he wanted to learn something challenging. His teacher was pregnant and wasn't feeling very well so she mostly just read them stories. He had no trouble learning to read, write, and do arithmetic. He loved music and seemed to have a talent in that area.
As he progressed through his school years, he never worried nor sweated about anything and it was obvious that he was an A student in spite of the fact that we moved so many times and he attended so many different schools.
Whatever subject he had, he just came in at the top of the class. He excelled in music, sports, science, history, in fact all his subjects. He very rarely did any home work because he passed all his tests just from what he was able to get in class.
In fact, one physics teacher bet him he could not pass his tests without taking his books home. He did not take his books home, but he did pass the tests.
He played piano for Junior Sunday School. I lead the singing and one Sunday he did not show up to play for us. The leaders were very concerned and asked me to play. I told them I was sorry. I had never taken piano lessons at that time and could only play with one hand. I couldn't wait until Sunday School was over to find out where he was? He was a new deacon and the Bishop assigned him to leave the church house and help collect fast offerings from people's homes. I said, "Didn't you tell him you had to play for Jr. Sunday School?" He said, "He didn't ask me and I wanted to try something new!" This was certainly an important teaching moment for him!
When he got to Granite High School he decided he wanted to sing with the Madrigal singers because he knew a girl who sang with them and he liked her. This was a very small and elite group and you had to be invited, not just choose to sing with them. I think there were only 8 members in the whole high school.
When he told me he would join, I said, "Denny you can't, you didn't even sing with the glee clubs at school, you don't have enough singing experience." His reply was, "I play the piano, I can read music, I can even sing when I want to."
Well, I guess where there's a will, there's a way. He practiced one day on his own at home singing while he played the piano.
I was raised in a very talented and musical family and I didn't see how he could do it and I didn't want him to be disappointed. Well, long story short, the leaders of the group called me in the middle of the night and asked if he wore pajamas to bed. I told them sometimes he did. The girl said, "Well let me know if he is decent, we don't want to drag him out of bed in nothing but his under pants." "Don't tell him we are coming, but he is now a member of the Granite High Madrigals, and this is his initiation."
The year before while attending South High, he was interested in track. He decided he would win races and he came in first out running the 8-80 and beat all other high schools even seniors and he was only a junior. But because he won, he lost interest because it was no longer a challenge to him. So when we moved to Granite district, he no longer wanted to run track. His coach at South told the coach at Granite to grab him up and get him in track. Granite high coach came to our home 3 times trying to get him on his team but he would not. This year he wanted music.
He took the lead tenor singer in the school play, "My Fair Lady." They had two different casts one night apart, but they had him take his role both nights.
He excelled in music and his instructor recommended him for the "Youth Tabernacle Choir" and he became the youngest member at the time.
Growing up Denny was a real joy to me. He was always obedient and never gave me any argument or trouble. In fact at one time when his dad left, Denny decided He should be "The Man of the House" and take on adult responsibilities. He helped me with everything. When I was late coming home from work, he had everything in order including his younger siblings.
When he was a senior at Granite, his dad told him he would have to quit school because we were going to move to the mountains and his dad wanted him to help him cut timber. I begged my husband not to take him out of school just prior to graduation. He would not listen. I even begged his principal to let him still receive his diploma since he was an honor student and got the highest score in the ACT for 3 high schools. His principal said, "No, if you don't think enough of your son to let him stay and graduate, I'm not making an allowance for him."
Denny obediently went and worked as hard as his dad cutting timber and being a "Go for" to his dad taking care of all their supplies. All went well until one day Denny did not do something as fast as his dad thought he should and his dad hit him hard and knocked him down. Denny did not sas his dad or show disrespect, he just decided he was 18 years and didn't deserve that kind of treatment, so in the night he just snuck out and left home.
He wrote a letter to me and put it in a mailbox in some small town as he was hitch-hiking from Montana back to Salt Lake City. I did not get it for 3 days. I nearly lost my mind! My beloved son, the star of the family, my biggest comfort, was suddenly GONE! I didn't know where he was. I tried to find out from his dad but I was told that "He probably ran off because I yelled at him and hit him." I received no answers and prayed fervently that he would be safe and no harm would come to him. I almost lost my sanity! This was so hard on me, not knowing.
He was a very spiritual son, always taking care of his priesthood duties and never missing church. I knew he was praying too. He had a goal in mind and was determined to get his education. He took the GED and naturally passed it.
He took a college entrance test and was asked by a physics instructor where he took his under-graduate work. He didn't understand and told him he had not really finished high school. The instructor told him he had just passed the college graduation test in that subject. He wanted to attend college, but he did not have the funds so he decided to join the Navy so he could get an education. He found the "Love of his life" and wanted to get married. He had no way to support a family without the education. He was in the Navy for 12 years.
They moved around a lot with being in the military and did not really get established in a permanent ward long enough to get a temple recommend.
While stationed in South Carolina (?) A good bishop by the name of Newel Hayes met them and worked with them so they could be sealed in the temple.
Denny had become less active but now had the opportunity to fulfill a long-time desire to go to the temple. He and Janice Elaine Midgley Smith were sealed for time and all eternity in the Washington D.C. temple.
When Denny was out on ship in the Navy, he missed his family so much and also gave deep thought to his up-bringing in the Church. He wrote some very spiritual letters and said he was doing his best to convert all his ship mates to the Gospel. He took several of them to Church with him whenever they were in port. He told me he was trying to be the missionary he had not had the chance to be if he had remained at home.
He put the whole Book of Mormon on cassette tapes and read and learned much of the scriptures most of his life.
I was remarried to a wonderful man and sealed (again) in the Salt Lake temple. I was living in Florida where my husband was an engineer with the space center when Denny and Janice got out of the Navy and came to Florida with five children. Denny had been working as a "Nuc" in the Navy and was trained to work as a nuclear power plant operator. He had hoped to get a job with nuclear power in Florida. Because of a Union strike and then retrieval, it didn't happen. Not too long after he earned his college degree and also obtained a position with McDonald-Douglas as a trainer. He initiated new video programs for training that were used by many for years to come.
Denny's family have had many hard trials. But when his sister, Melanie, visited him at his home in Florida two years ago, she said he was still very spiritual minded and told her he had a strong testimony of the Gospel and always would have.
Melanie said Denny could not remember her visiting and she had to show him a photo that was taken of the two of them together at that time.
I know Denny has made many mistakes, but with the wonderful wife and mother of their seven living children; the children that have died, and the children's accomplishments. I know he needs to have his blessings restored and be with his family in the eternities.
Very much love!
His mother, Sylvia Chapman Smith Althouse Archibald
16 December 2020
(Written 20 days after his death)
https://www.northbrevardfuneralhome.com/tributes/Dennis-Smith
Click here to see Denny's last Profile entry.